Negotiations for personal assistants failed, strike in Helsinki Metropolitan Region will begin on Thursday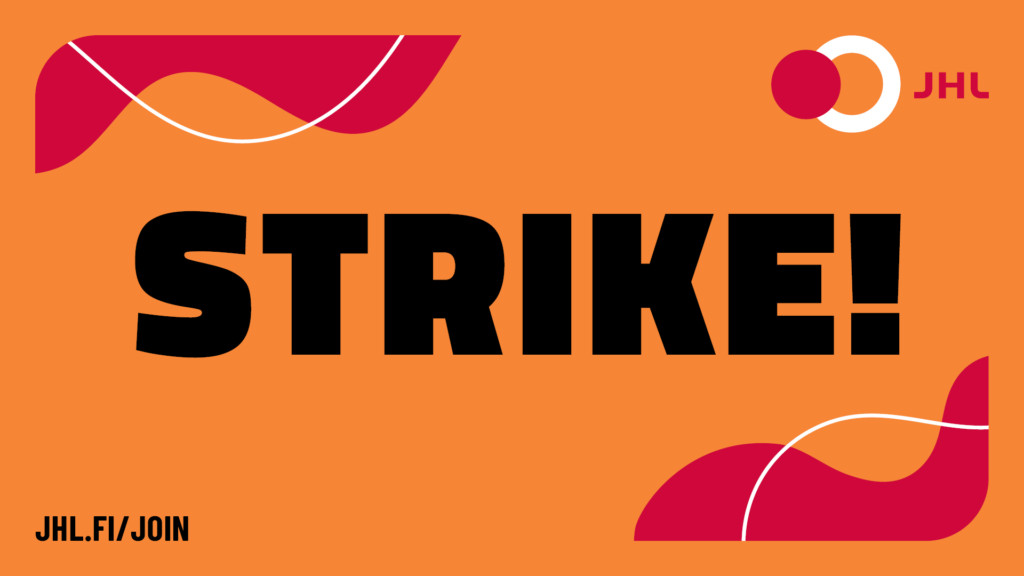 No progress was made on Tuesday in the negotiations on collective agreement Heta-tes that applies to the employer model for personal assistance. For that reason, Trade Union JHL is starting a strike to speed up reaching an agreement.
The first wave of strikes will target work shifts within pay group A in the Helsinki Metropolitan Region (Helsinki, Espoo, Vantaa and Kauniainen) between 12.01 am on Thursday 25 May 2023 and 11.59 pm on Wednesday 31 May 2023.
The collective agreement for personal assistants is applied to employment relationships where the disabled person themself or their representative acts as the assistant's employer and is a member of Heta (the Union of the Employers of Personal Assistants in Finland).  The Trade Union for the Public and Welfare Sectors JHL and Heta union have been negotiating on the sector's collective agreement since the end of January. The previous agreement period ended in April.
JHL is also continuing the ban on additional work, overtime and shift swaps, and the job search embargo that have already been started. In addition, agreements on long work shifts, agreements on exceptions to travel time's work and rest periods, and agreements that concern diverting from overtime compensation have been included in the industrial actions by the union. These industrial action measures apply to the entire country. 
Work tasks that threaten life and health have been ruled out of the industrial actions. 
Assistance safeguards independent living and rights
Personal assistance involves strengthening the independent life and self-determination of persons with disabilities. However, the work is very often low paid, mainly part time, and the employment relationships are fragmented. Assistants have large challenges with their income, which makes it difficult for employees to commit themselves to the sector.
It is difficult to find regular assistants. There is a serious shortage of assistants and some employment relationships are only a few months long. Because of the shortage of employees, some personal assistance hours are left unused. This makes it more difficult for persons with disabilities who use personal assistance to get assistance. There are also not enough possibilities to cater to individual needs such as maintaining hygiene, communicating or maintaining social relationships. Personal assistants are also responsible for demanding care duties such as using a suction device, handing out medicines, catheterisation and wound care.
From the perspective of JHL that represents employees, the key challenge of the collective agreement negotiations is the low earnings level of personal assistants. The pay is too small in relation to how demanding and diverse the work is. Furthermore, the sector's terms and conditions of employment are weaker than that of the social welfare and health care sector in general. JHL is aiming at levelling out the sector's earnings level and other terms and conditions of employment.
Wellbeing services counties must take responsibility for organising services
JHL President Päivi Niemi-Laine reminds that wellbeing services counties are in charge of organising personal assistance. However, most of the assistance is provided under the employer model, in which the disabled person themself acts as the employer of their assistant and wellbeing services counties finance the costs of being the employer. Over 20,000 personal assistants work under the employer model.
– The level of pay and other terms and conditions of employment – such as working time compensation or terms and conditions of sick leave – are much weaker compared to if wellbeing services counties themselves produced the service, Niemi-Laine emphasises.
– Although personal assistance is one of the most central services for persons with disabilities, the sector's earnings and terms and conditions of employment are lagging behind the social welfare and health care sector in general. The employer model is for instance based on work shifts that are up to 48 hours long. As a rule, no overtime compensation is paid for these shifts. It is unsustainable that the pay does not take into account the work of assistants, the flexibility of which makes it possible to promote the individual needs of persons with disabilities. If wellbeing services counties themselves provided the service they are in charge of organising, working time compensation and other terms and conditions would be determined in accordance with the SOTE agreement.
The status and terms and conditions of employment of personal assistants working under the employer model must be improved so that it is possible to commit oneself to the demanding work and earn a living wage from the work. For this reason, JHL has taken to industrial action measures.
More information:
President Päivi Niemi-Laine, 040 702 4772
Senior Bargaining Specialist Laura Tuominen, 050 4092 460