1001 occupations – occupational sectors
Continuously further developing working conditions and methods of work brings well-being to everyone's daily life. Together with union members, we make a strong effort in further developing JHL-affiliated occupational sectors and occupations. In addition, we highlight the significance of the union's star professionals as the foundation of the entire Finnish society.
JHL uncompromisingly defends the interests and rights of its entire wide range of member occupations. As a union, we ensure that everyone's working conditions and terms and conditions of employment are in order.
To support occupational development and a strong occupational identity, the union organises various regional and national courses and member events. We also engage in visible advocacy work for JHL-affiliated occupations: We make statements to decision makers and we are involved in reforming the education system.
Those who are experts in their sector have the best knowledge of good grassroots-level practices in workplaces – along with practices that need further development. Share your experiences with others, too!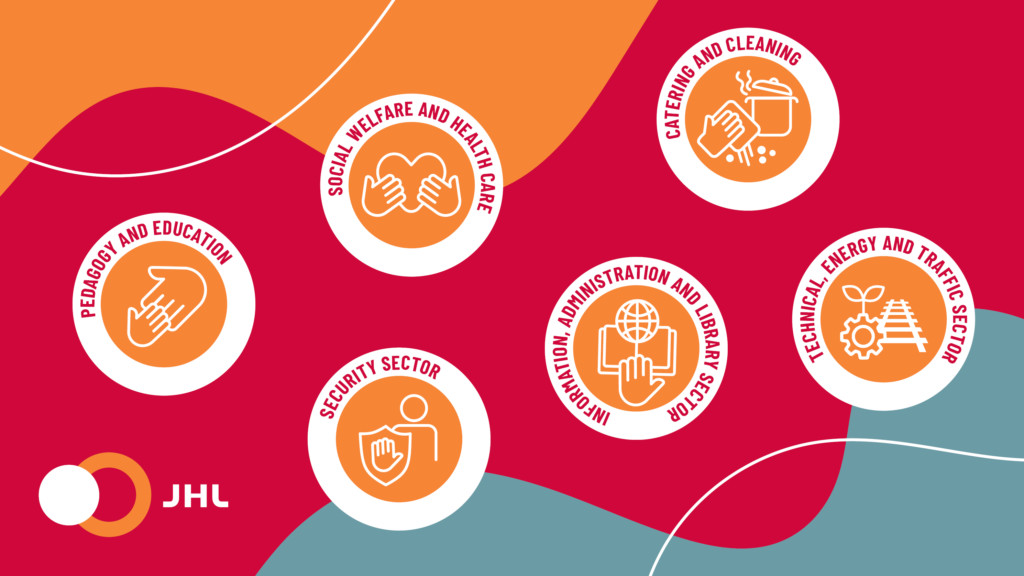 Exchanging experiences and talking about viewpoints with those who work in similar occupations is sometimes a welcome break. This kind of dialogue is one reason why we've established regional occupational sector forums for you. Participation is not only useful but also fun. The regional forums make the voice of our occupational sectors heard, also at a national level.
An online environment makes conversation natural and easy.
Join a great group of people. Let's make the future of work even better together!
---
Pedagogy and education sector
---
Catering and cleaning sector
---
Social welfare and health care sector
---
Technical, energy and traffic sector
---
Information, library and administration sector
---
Security sector