PM Sanna Marin visited JHL's Union Council meeting: "The difficult labour market negotiations have made me long for national income policy agreements"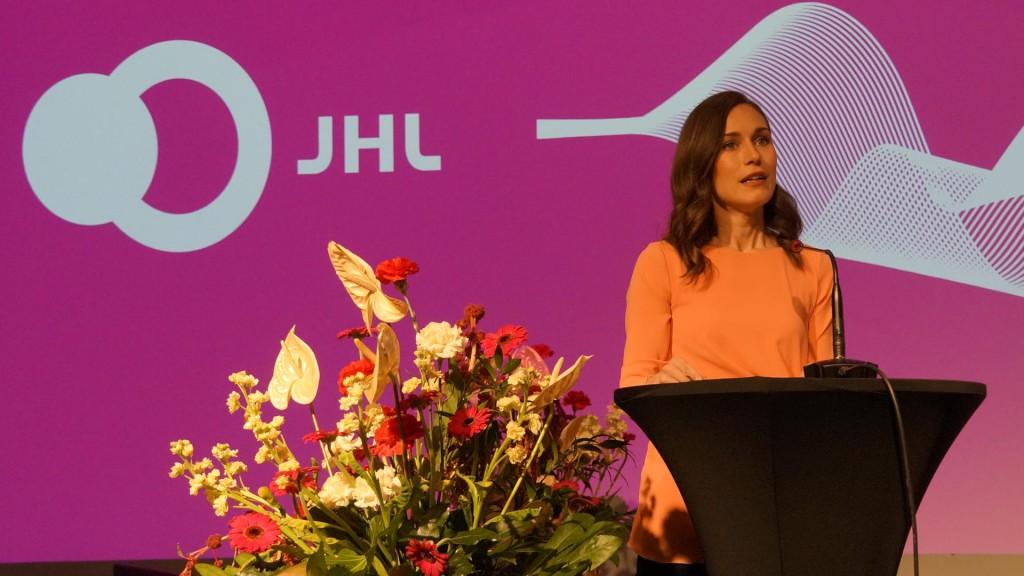 Prime Minister Sanna Marin praised JHL for its solution-centric mentality during the municipal sector's agreement negotiations. Because of the lengthened negotiations and the increasing difficulties experienced during them, she would be delighted for a re-introduction of national income policy agreements.
Public-sector employees, their flexibility during the pandemic,  and their significance as makers of welfare services. This is what Prime Minister Sanna Marin highlighted in JHL's Union Council meeting on Tuesday 7 June.
According to Marin, services play a large role in people's welfare. That is why the role of JHL members is significant in society.
– They have earned their pay raises, the Prime Minister said.
Praise to JHL for solution-centric mentality
The difficult spring in the labour market has made Prime Minister Marin long for national income policy agreements, which are no longer concluded in Finland. An income policy model would have the labour market parties and Finnish state negotiate together. Now, the state is no longer involved.
– Unfortunately, the employer party has wanted to fragment the system, which has resulted in industrial action measures. It is difficult to achieve solutions, and negotiations last longer, Marin said.
Marin praised JHL for the union's solution-centric mentality in trying to find a negotiation result that would guarantee industrial peace in the municipal sector.
We must hold on to welfare model
In addition to agreement negotiations, Marin talked about the strengths of Finnish society which have carried us through the pandemic years.
– A strong Nordic welfare state creates a fundamental feeling of trust. That trust has reflected in the confidence that people have in officials, political decision makers and public-sector employees.
Marin reminded that the future of the Nordic welfare model is also important in the upcoming parliamentary elections. Improving public services will remain as one of the most important duties of the Finnish Government.