Cyrene Balay came from the Philippines to work in the Finnish nursing sector that's riddled with labour shortage –Many foreign recruits run into blatantly unfair treatment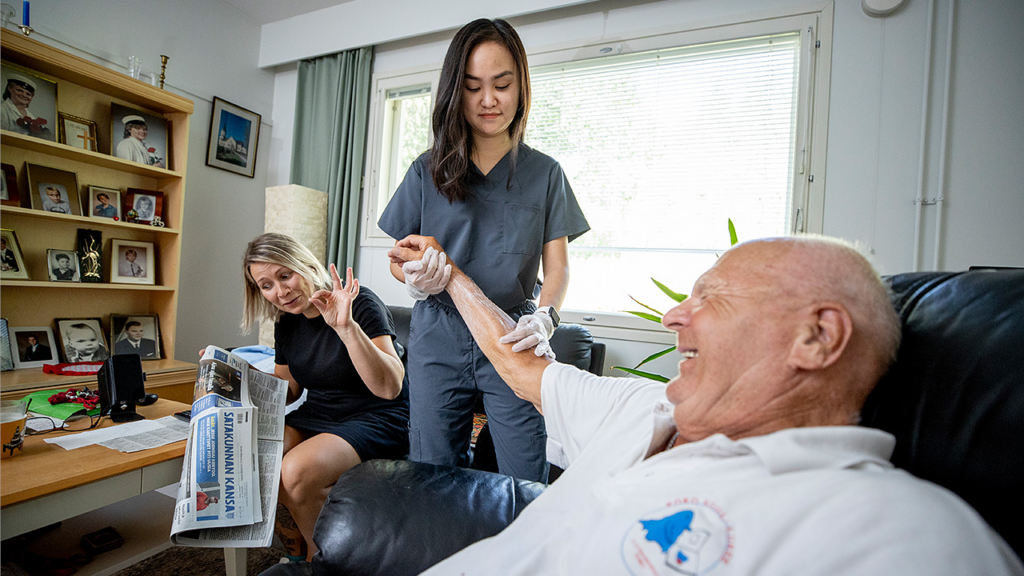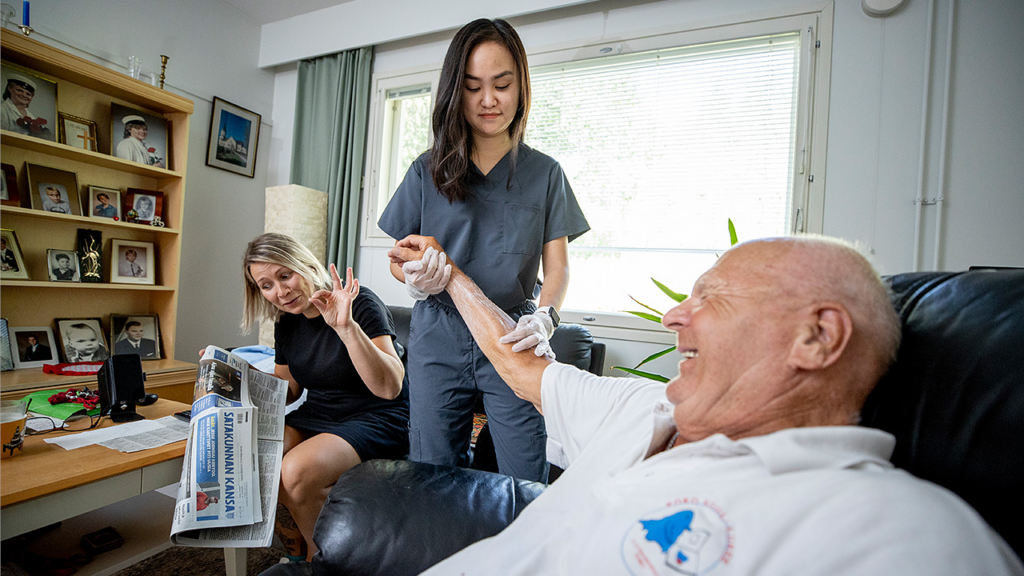 Original article written in Finnish by: Samuli Launonen Pictures: Joni Lehti Reading time: 6 mins
Labour shortage has caught Finland's social welfare and health care sector by surprise. As a result, emphasis has been put on ethical recruitment. We are in desperate need of competent foreigners, and practical nurse student Cyrene Balay is one of them. In her experience the recruitment process was fair, but this is certainly not always the case. The recruitment market has become a Wild West where employees may have limited rights.
Cyrene Balay knew what she was getting into when she arrived at Turku railway station in February 2023. She had travelled 10,000 kilometres northwest from the Philippines.
She was met by Kirsi Mattila, the person in charge of Service Centre Salmela. Balay, 30, had agreed with Mattila to come work as a care assistant and later as a practical nurse in Salmela, a service centre for the deaf. Mattila had also promised to give Balay an introduction to life in Turku.
Balay had worked over six years as a registered nurse in the Philippines. In Finland she started nursing work through apprenticeship training for Vocational College Varia, thus getting the necessary further training by working. It's not possible to start working as a practical or registered nurse in Finland without additional studies.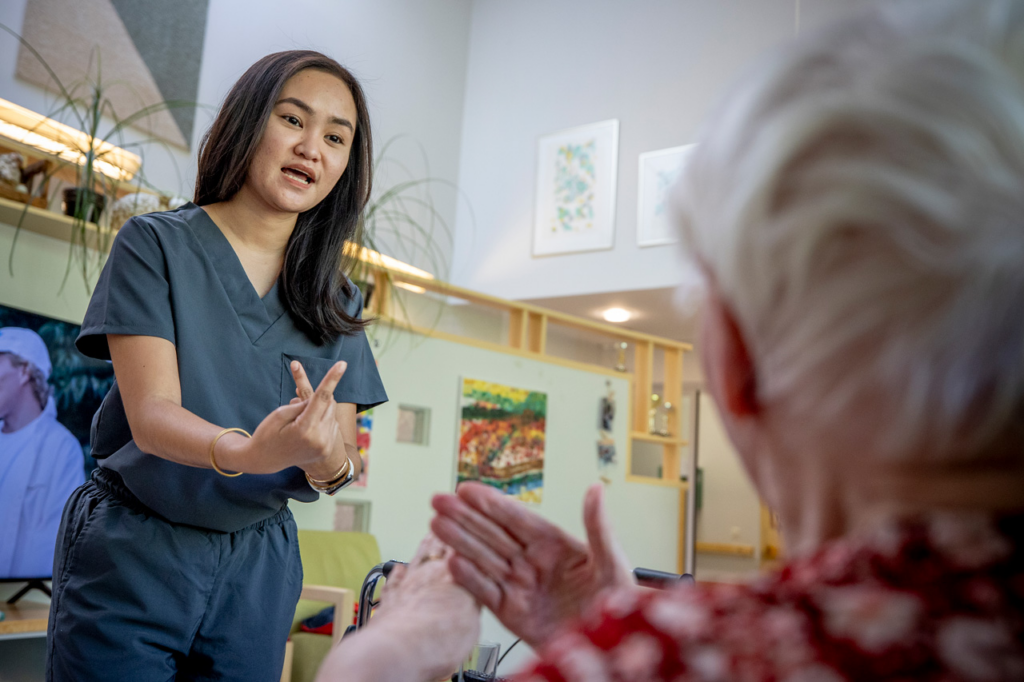 Cyrene Balay is communicating with a client in sign language. Service Centre Salmela is traditionally multicultural, which made it easier to decide to recruit from the Philippines, Person in Charge Kirsi Mattila explains.
Balay is to graduate as a practical nurse around the turn of the year. After that, Service Centre Salmela wants to hire her as a permanent employee. She will then be paid a full salary – as a student, Cyrene is now paid less than a permanent employee.
Balay is one of the hundreds of social welfare and health care sector employees recruited from the Philippines to Finland each year. Social welfare and health care companies in particular are now looking for employees outside the EU. Salmela is a unit of the Service Foundation for the Deaf, and the foundation has decided to use international recruitment to hire employees for other units, too.
I had a shallow conception of Finland. I thought of the world's happiest country, Nokia and Helsinki.
– During the past two years, there have been less and less applicants to open positions, the foundation's Chief Executive Officer Anne Puonti describes.
The shortage of employees is merciless in the entire sector. Within two years, there has been an explosive growth in international recruitment, Elina Koskela explains. She works for large temporary work agency Barona as a director in charge of global manpower solution.
– Finland has only now really woken up to reality, she states.
Last year, Barona made approximately 700 international recruitments. The majority of the recruits hired for the social welfare and health care sectors are Filipino and Indian. People are moving to Europe from the Philippines and other developing countries because the pay, terms and conditions of employment and living conditions are better – and there's plenty of work. In the Philippines, the nursing sector is riddled with unemployment, whereas European countries are dealing with a shortage of skilled individuals and are in serious competition over professionals. On the other hand, firms also recruit to Europe from countries that themselves have a shortage of labour.
In the midst of everything, ethical recruitment has become something that many employers claim to take responsibility for. At the end of 2022 however, the National Audit Office of Finland complained in its report about the unethical recruitment of nursing professionals. There is a wide array of practices, the rules are divergent, and supervision is not very strict. That has led to a Wild West in the labour market, where employees don't always have a strong status.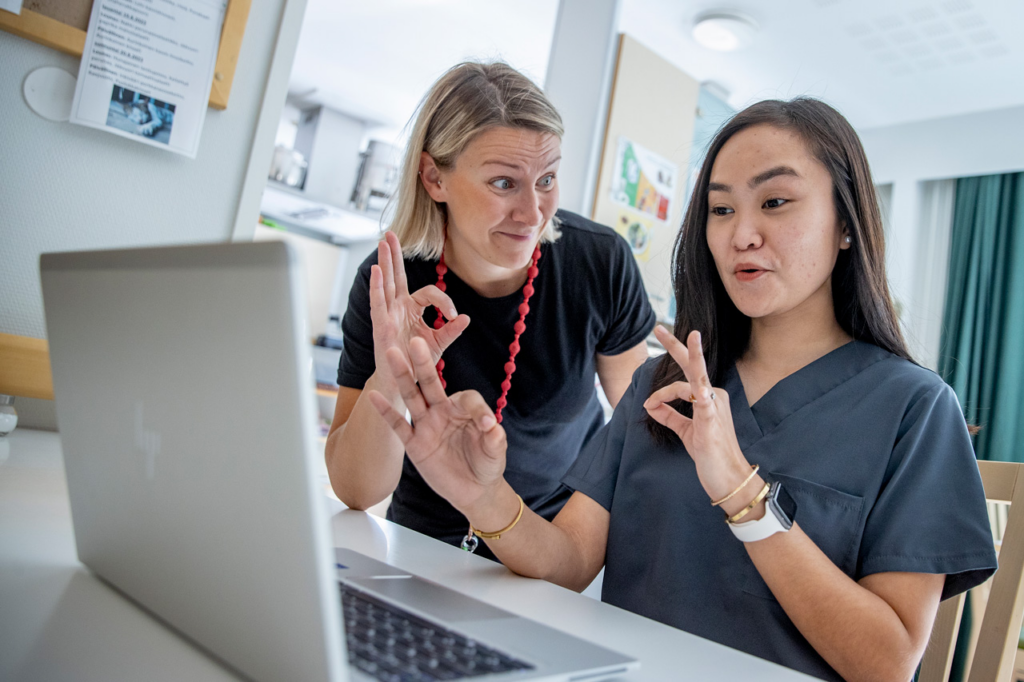 Annamari Puurunen (on the left) is Cyrene Balay's workplace instructor. Balay is studying two new languages simultaneously: Finnish and sign language.
Ethical recruitment: promises vs. reality
Cyrene Balay is sitting at the break room table in Service Centre Salmela. She explains in English that she was treated fairly throughout the whole recruitment process.
The service centre outsourced the recruitment to Barona which took care of training Balay until she was able to move to Finland. The process took a little over six months and included several formalities related to switching countries and jobs, completing level A2 in the Finnish language (basic level), travel and living arrangements, and an introduction to the Finnish lifestyle and culture.
The person may not have encountered ethnic discrimination in their country of origin. It would be important to prepare them mentally for that.
The temporary agency started the process, and the workplace finished it. In Finland, the service centre gave Balay advice and helped her get a personal identity code, personal ID card and a bank account.
So far, regulation has been insufficient and there is a wide array of practices in terms of, say, which costs each party should pay for. Balay explains that Barona covered her costs except for some "personal" costs such as health checks and flights.
Balay says that it was clear for her throughout the process where she was going and what she was going to be doing. This isn't always the case. In some cases, a recruited person may for instance think they're coming to Finland to work as a nurse but end up working as a care assistant. Some authorities think it's in general unethical that nurses are being hired to work as care assistants. However, that method is thus far the only way to directly recruit staff for work.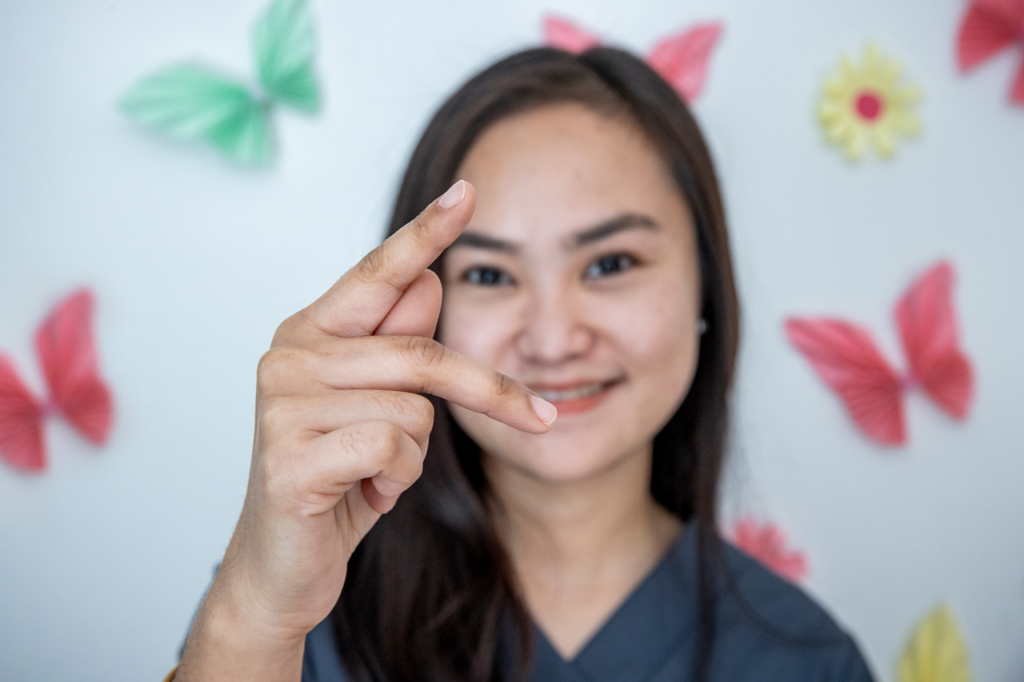 Cyrene Balay thinks that Turku is a small but lively city. – Finnish people are direct, and they have a different sense of humour.
Read more: Practical nurse Valli Pruuli moved from Estonia to Finland for work, and our country desperately needs immigrants like her
Painting a pretty picture
Finland is unknown, small and expensive, and it's rarely the number one choice for an employee wondering which European country they would want to head to. Even Cyrene Balay heard about Finland through the grapevine: The sister of her co-worker was living in Helsinki and told that Barona is looking for nursing professionals from the Philippines.
– I had a shallow conception of Finland. I thought of the world's happiest country, Nokia and Helsinki, she reminisces.
Barona gave Balay an impression of a beautiful and peaceful country where people belonging to ethnic minorities may however face prejudices and where the language is difficult. She thinks that the image has proven to be realistic. She sees the country as clean and green. She doesn't feel she's experienced discrimination, but the direct way of communicating and the complicated language require adjustment.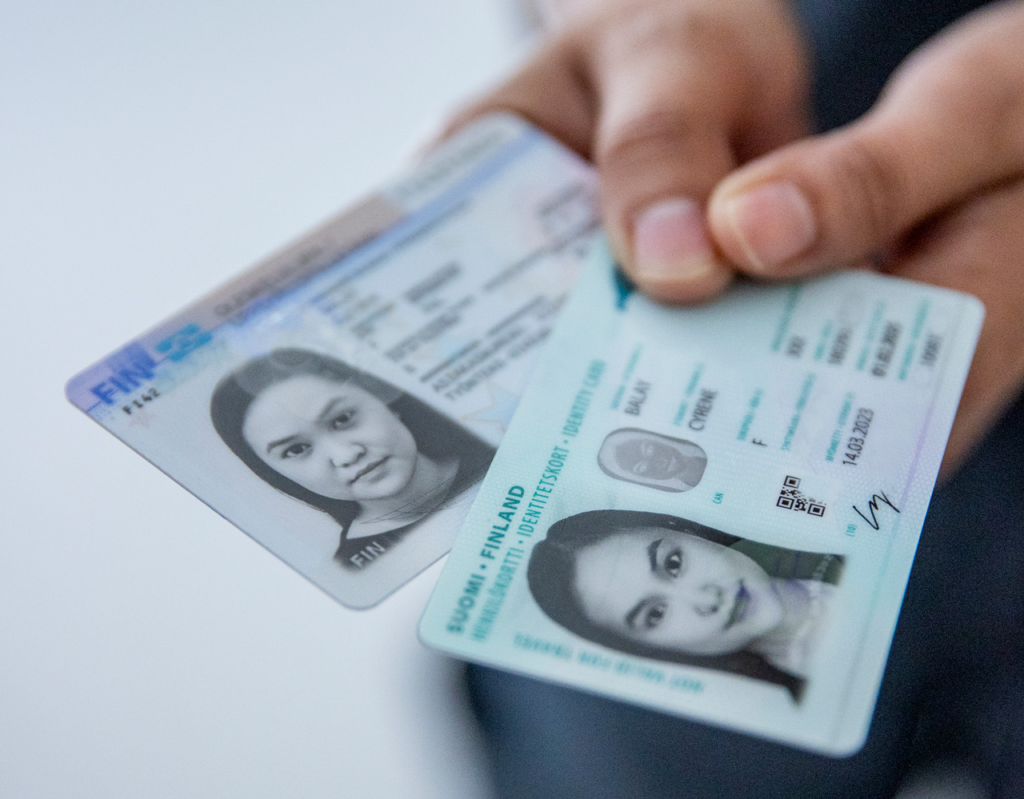 Balay had to wait a while to get her residence permit and personal ID card. In the Philippines, Balay lived close to the capital Manila.
Some recruitment agencies on the other hand give dishonest information about Finland, JHL's Immigrant Activities Specialists Neleah Kagiri and Linda Savonen explain.
– An advertisement can say that you can easily become a Finnish citizen and take your entire family with you without problems, Savonen describes.
A certain Finnish firm recruiting employees for the nursing sector claims that employees are paid "a fabulous salary" and that they can "definitely" bring their family to Finland.
– Beautiful promises are made, a person comes here and then realises that the expectations and reality don't match at all. The person may not for instance have encountered ethnic discrimination in their country of origin. It would be important to prepare them mentally for that, Kagiri says.
Finland can advertise itself honestly, too. The country's assets are that it's clean and peaceful, and even the bureaucracy related to immigration isn't as tricky and expensive as in, say, Great Britain.
Despite this, Neleah Kagiri is of the opinion that firms recruiting from abroad shouldn't sugar coat things.
– Finland is a welfare state. That's true, but one shouldn't exaggerate it.
Balay, too, applied to Finland partly because the process seemed simple and it was free of charge. The formalities were taken care of quickly except for the visa, which Balay had to wait for two months.
The stiff formalities meant a long wait in the country of origin. Balay spent two months waiting for her work visa in the Philippines. In addition to the work permit, a person may be forced to wait in Finland for their personal identity code, population register and, to top it off, a bank account. From the time Balay was hired, it took about seven months for her to start work. That's a too long time, Elina Koskela from Barona complains.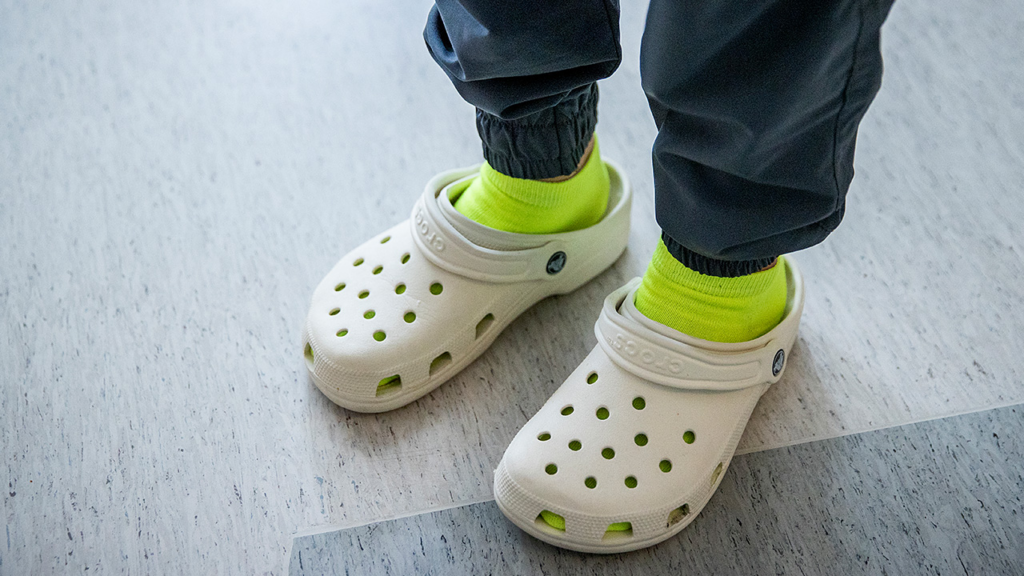 Employees look after their own rights
Neleah Kagiri and Linda Savonen tell that recruitment is associated with widespread exploitation and misconduct.
Supervision is lousy, and employees sometimes have to look after their own rights. Publicity has been given to, say, the underpayment of Filipino nurses and unclarities in the tuition fees of Kenyan nursing students.
According to Kagiri and Savonen, these are just the tip of the iceberg. A multi-tier labour market is emerging in Finland. A person who has come from abroad is in a vulnerable position which may be exploited by, say, paying the person less than what their Finnish co-worker earns. If the pay is larger than what the person would earn in their country of origin, they may be happy with it. Regardless of that, they deserve the same rights as their co-workers.
Authorities are in charge of supervision, and it can be made more effective with legislation. The way Kagiri sees it, the parties can now hide behind their roles.
– A temporary agency may have a local partner in the employee's country of origin, but no-one ensures that the partner complies with laws and operates ethically in other respects, too. Each party considers to only be in charge of their own responsibilities.
Savonen demands that contractors take responsibility for the whole chain, from pre-advertising to the moment when an employee integrates in Finland.
– If a clothing brand's subcontractor has used child labour for picking cotton for clothes, everyone understands that the clothing brand bears the responsibility for it. Even in recruitment, responsibility must extend all the way to the other end of the chain.
Cyrene Balay thinks that companies have a lot of power and responsibility. The service centre got an apartment for her and her co-worker in the centre of Turku without describing it in more detail.
– I only knew the street view and façade, which I'd seen on Google Maps. I put a lot of trust in the recruiters.
She commends her pleasant two-room flat that she shares with a co-worker. She also thinks that the whole process was smooth. In Service Centre Salmela she has her own instructor who supports her with her studies, work and integration. Barona selects its partners carefully, both in the country of origin and in Finland, Elina Koskela assures.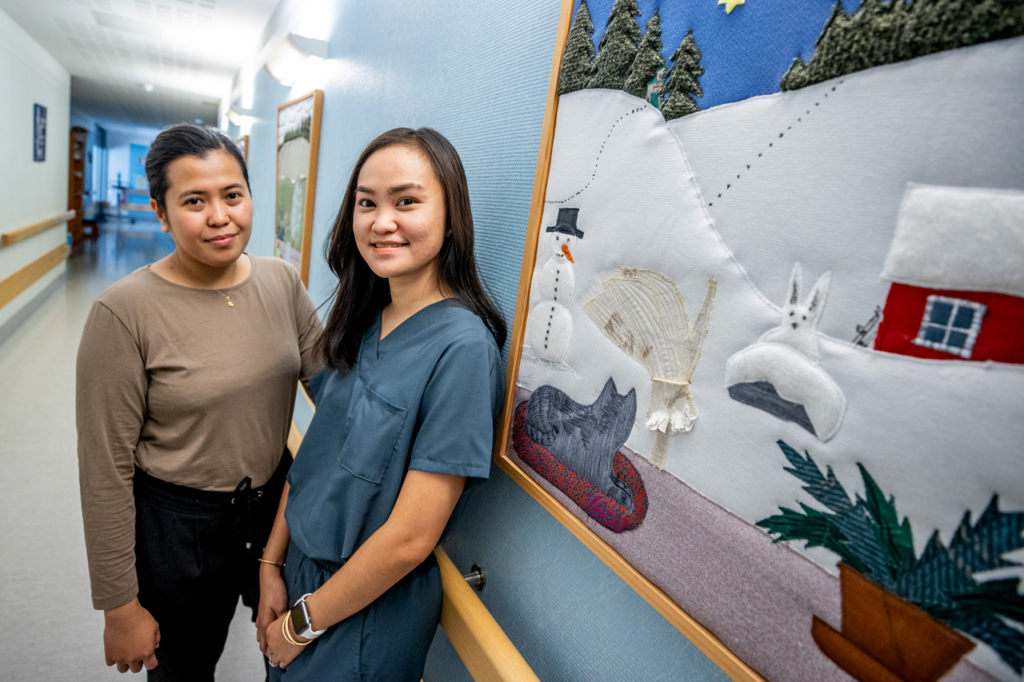 Karen Lei Jamora (on the left) and Cyrene Balay came to Finland together. They now share an apartment.
A person needs their family
Cyrene Balay and her co-worker, practical nurse student Karen Lei Jamora were the first two international employees hired by the Service Foundation for the Deaf. Hiring both of them cost the foundation about ten thousand euros, Chief Executive Officer Anne Puonti reveals.
Many companies may calculate that an ethical recruitment process is uneconomical. Linda Savonen notes that it is up to companies to make their operations profitable without ripping off employees.
Neleah Kagiri points out that treating the employees fairly benefits the employer in the long run. A company may get a committed, long-term, healthy and productive employee who integrates in their new home country and doesn't want to leave.
According to Anne Puonti, the foundation will also in the future aim to make their work communities so good that the employees will stay. Barona's statistics show that 90 per cent of the Filipinos who applied for their first Finnish work permit 10–12 years ago have stayed in Finland. Elina Koskela remarks that the reason for this is proper training.
A key question is how Finland can hold on to the talent that has come here. Koskela, Kagiri and Savonen rely on realistic promises, equal treatment, and smooth family reunification.
The Government of National Coalition Party's Petteri Orpo is further tightening the criteria for staying in the country. If an immigrant ends up unemployed for three months, the Orpo Government is planning to expel such an immigrant from Finland. As a result of this, employees who are already in Finland may have to agree to short and poorly paid jobs, and moving to Finland will at least not become more attractive to new talent.
Ethical recruitment and effortless family reunification play a significant role when getting professionals like Cyrene Balay to stay. Employees from developing countries often send money to loved ones in their home country, but many people ultimately want to live with their loved ones.
Balay has a spouse and four-year-old child in the Philippines. She says she wants to stay in Finland but hasn't made any exact plans.
– In the long run, I hope to be living and working in Finland and that my spouse and child would come here. However, I've only lived here for seven months, so it's too early to say anything final.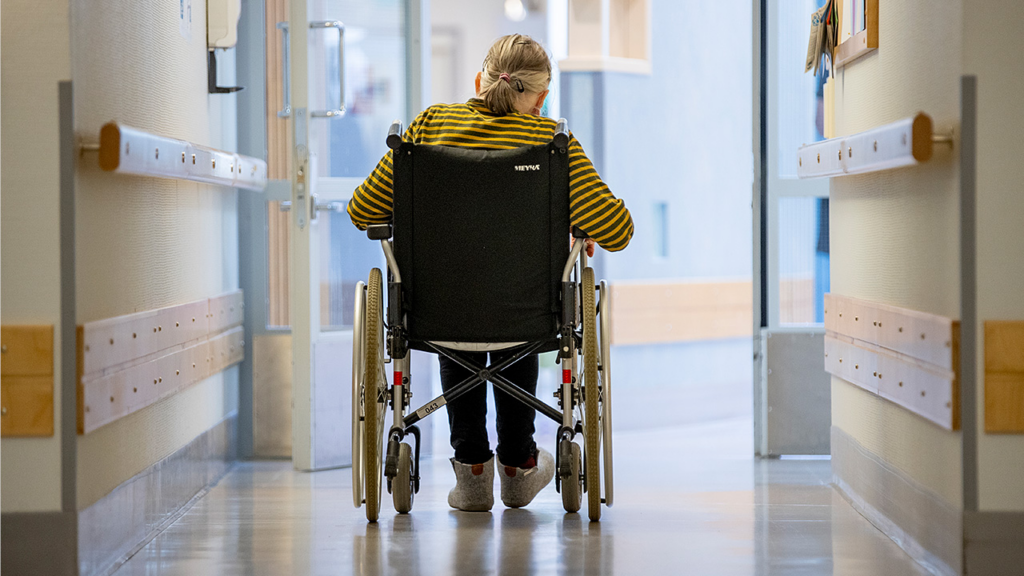 As the population is ageing and decision makers are preventing foreign talent from entering the country, who will look after us?
Four steps to more ethical recruitment
---
1 Even refugees can work
JHL suggests that the concept of labour immigration would cover all immigration that increases the potential workforce: the family members of an immigrant who finds employment, those who come on humanitarian grounds, and even students.
2 Responsibility for other countries
One ethical issue is the recruitment of employees to Europe from countries that themselves are suffering from a shortage of nurses. Anne Puonti from the Service Foundation for the Deaf says that the Philippines don't have this problem, which is why employees are recruited specifically from that country.
3 Get your act together
The Finnish Public Services Unions' International Network FIPSU requires compliance with legislation and collective agreements and that employees are not recruited for duties they are not trained for. The rules should be more clear, and they should be monitored more effectively.
4 The role of unions should be made clear
JHL has suggested that a mandatory working life passport should be adopted. Those who come to Finland would then have a basic knowledge of the Finnish labour market and society.
Unions should reach all newcomers in their native language, JHL's Neleah Kagiri and Linda Savonen suggest.
The Central Organisation of Finnish Trade Unions SAK is a forerunner in this respect. It has a service named Fair Play at Work which presents the significance of unions in Finnish working life. The online service is available in 23 languages.
---