Trade Union JHL to continue political strikes, one-day work stoppages in Central Finland, Uusimaa and Pirkanmaa on 21–23 November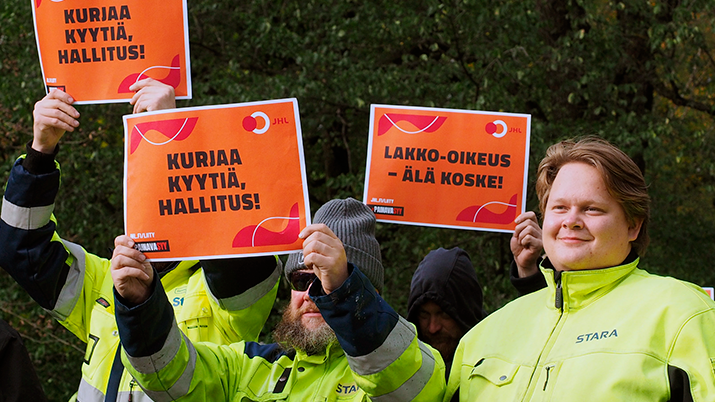 The trade union's strikes will impact for instance sports services and the catering services of schools and day care centres. In Tampere, the strikes will stop tram services and affect bus services on Thursday 23 November.
The Trade Union for the Public and Welfare Sectors JHL is continuing its fight against the Government's unfair policy of making cuts. The trade union is organising a new series of political strikes that will last one day.
Strikes will be organised in Central Finland on Tuesday 21 November, in Uusimaa on Wednesday 22 November and in Pirkanmaa on Thursday 23 November. A list of all the strike locations is attached.
In Central Finland, JHL members working for Gradia Vocational College, University of Jyväskylä, Jyväsparkki Oy, Monetra Keski-Suomi Oy or Sakupe Oy's laundry in Jyväskylä will be involved in the strikes.
In Uusimaa, the strikes will affect the sports and catering services of many municipalities on Wednesday 22 November. In Espoo and Nurmijärvi, some JHL members working in catering services will be on strike. The strike will have an extensive impact on school and day care centre catering. In Kerava, Hyvinkää, Nurmijärvi, Tuusula, Järvenpää and Mäntsälä, the strike will shut down sports facilities or shorten their opening hours.
The strikes in Pirkanmaa will have an effect on public transport in Tampere on Thursday 23 November. City tram services will stop and bus services will experience disruptions.
Furthermore, certain facility maintenance, waste management and energy sector employees will be on strike in Pirkanmaa. JHL members at Tampereen Energia will be involved in the strike, meaning that they will not do maintenance work on the district heating network, power plants or district heating plants. JHL members working for Tampereen Vera will also be on strike. Because of the industrial action, the following work will also remain undone: electric power network maintenance, construction site electrification, and electric connections and disconnections.
The trade union is continuing its strikes because the Government's policy hasn't changed at all, JHL's Chief Executive Officer Håkan Ekström highlights.
– The Government hasn't shown any intention to back off from its cuts. The right to strike, the status of shop stewards and the basic security of people in Finland are still threatened.
Ekström reminds that the trade union's members make the union strong. Trade Union JHL aims for results at negotiation tables, but this time the Government is unwilling to negotiate.
– I want to thank all JHL members that are participating in the strikes. Only with your help can we make our voice heard.
JHL's strikes are a part of central organisation SAK's Serious Grounds campaign. The campaign opposes the Government's unfair policy. The Government of Finland is planning to weaken social security and basic employee rights dramatically.
More information: JHL's Chief Executive Officer Håkan Ekström
040 828 2865
You may also be interested in