Helsinki's salary payment mess must be cleaned up right away – Join us for Due Date demonstration on Wednesday 24 August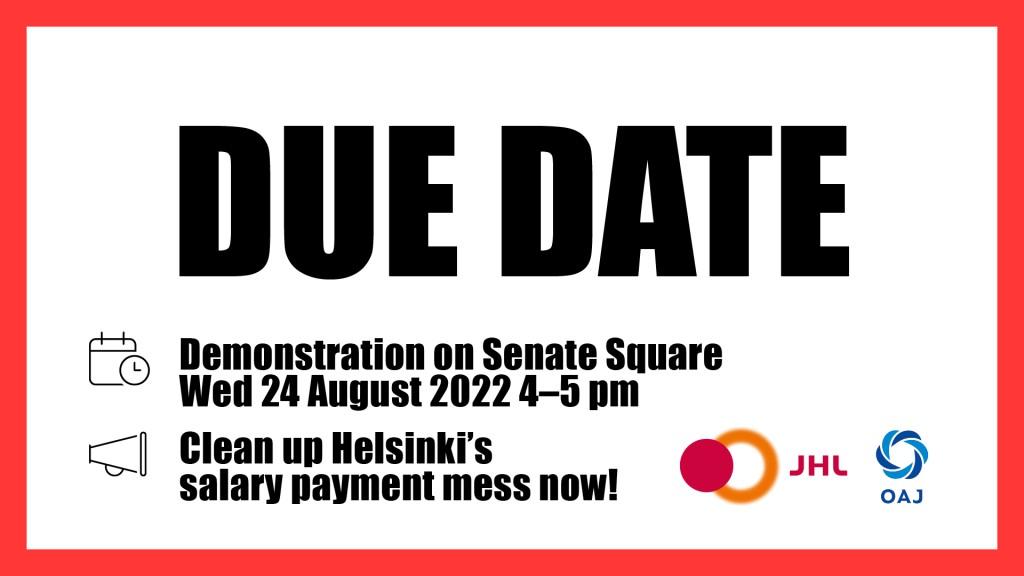 It's not right that each City of Helsinki employee has to worry on each payday whether they have received their salary on their account and whether the amount is correct. Apologies don't pay people's bills or groceries. The due date for solutions is now.
Too many City of Helsinki employees have had to suffer from mistakes made in salary payment, and the problems have lasted for far too long. The city's decision makers and software provider Sarastia must fix the problems immediately – the due date is today!
Show your support and join us
Trade unions JHL and OAJ are inviting everyone to participate in DueDate demonstration (#Eräpäivä). The demonstration will start at 4 pm on 24 August on Senate Square in Helsinki. Let's tell the city councillors what we want. They will have their meeting in the early evening at Helsinki City Hall.
In addition to our members, we are warmly inviting everyone who wants to show their support to City of Helsinki employees. Please pass on the invitation!
As the demonstration approaches, you can find more information in the Facebook event and on JHL's website.