The free-of-charge Summer Job Helpline will again be open throughout the summer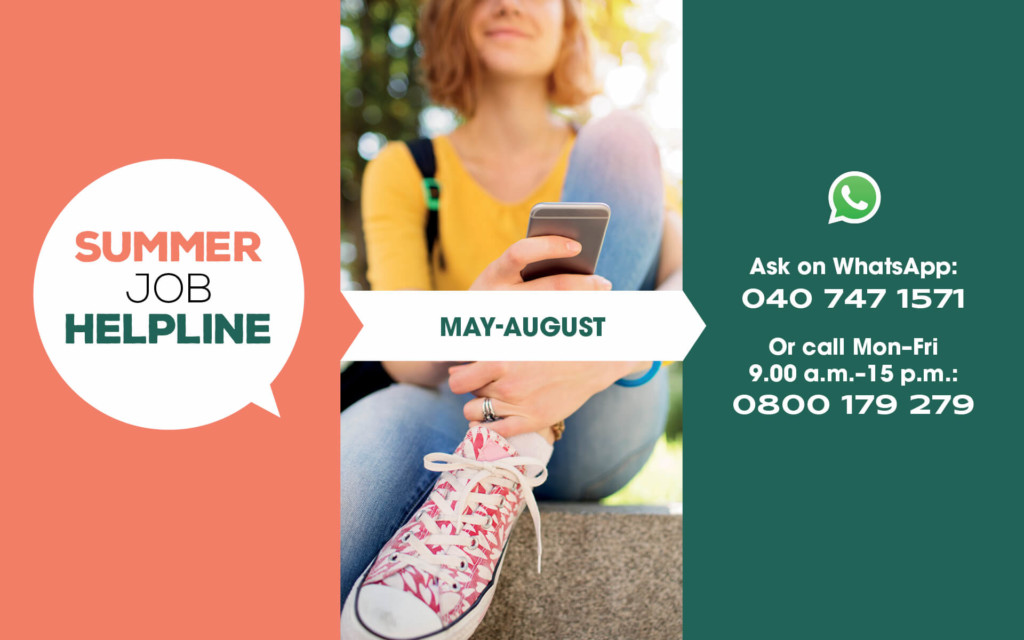 Did you get a summer job? Are you now wondering about something work related? Central organisations SAK, STTK and Akava have a shared Summer Job Helpline that you can call to ask about concluding an employment contract, pay, working time, holiday compensation and other things related to your employment relationship. Don't hesitate to call. Calling is free of charge for you.
The Summer Job Helpline is a service available for everyone. You can use the service to sort out summer job issues you're wondering about. Summer employees, especially young people, need not be alone.
Summer employees can call the free-of-charge Summer Job Helpline at 0800 179 279 from Monday to Friday, 9 am to 3 pm, until 31 August. You can also ask questions on WhatsApp at 040 747 1571 and by filling in the online form on the kesaduunari.fi website.
This year's Summer Job Advisor Vee Tirinen encourages summer employees to contact the service immediately if they have any employment concerns.
− If there's anything unclear about your employment contract, you can ask for advice from the Summer Job Helpline before signing the contract. You can also ask for advice about pay, work shifts and trial periods. Questions are always handled with confidentiality, and there's no need to be shy about asking for help, Tirinen says.
You can also find advice and instructions in the checklist for summer employees, and in the frequently asked questions. If there are problematic situations, you can also contact your more senior co-workers, your workplace shop steward or representative, or the trade union of your sector.