Sports instructor Ayisat Yusuf-Aromire became a star in her native country Nigeria. Football is still her passion with which she promotes the equality of girls and women. She joined JHL for a surprising reason. Motiivi magazine's series of articles about new members continues.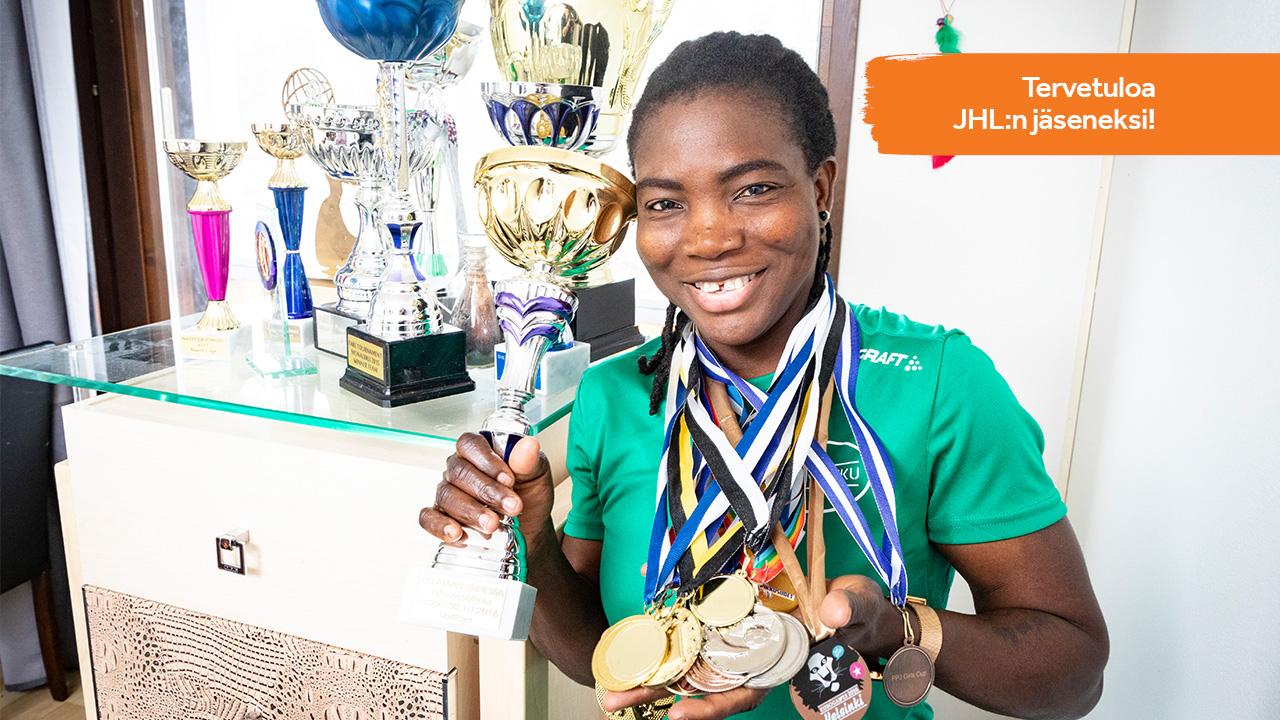 "Welcome as a JHL member!"
JHL member Ayisat Yusuf-Aromire, 37, welcomes with a smile in her home in the suburb of Kannelmäki, in the middle of western Helsinki. The apartment looks like a regular family home, until one's eyes fall upon the living room walls.
They have pictures of Yusuf-Aromire posing with famous athletes. A trophy cabinet full of trophies and medals adorns one corner. Among them are the four African championship trophies that Yusuf-Aromire won when she played in the Nigerian national team.
Ayisat Yusuf-Aromire is an olympic-level footballer and a recent member of JHL.
The trophies and pictures in the living room bear witness to a long career. Currently, the former top footballer coaches two football teams in Helsinki. In her main job, she works as a sports instructor in the civic organisation Monaliiku promoting the well-being of multinational women. She has also set up a the SheFootball Initiative foundation promoting girls' right to play sports.
You came to Finland for the first time in 2004. What brought you here?
– Football! I played in the Nigerian national team from 2002 to 2008. The International Federation of Association Football (FIFA) registers the information and statistics on national-level players and publishes them online. The FC Oulu team was looking for a football player from Africa and became interested in me. They contacted my agent, and soon I was on my way to Finland.
I took part in their practice the very next day. I was supposed to attend their practice for two weeks so that the team management would see how I play. However, the coaches loved me, and they offered me a player contract already after two practice sessions.
Everything changed in the Nigerian national team. I became a famous person.
In addition to FC Oulu, I played in MimmiFutis in Kuopio, and later on in NiceFutis in Pori. Occasionally, I also played as a professional in Sweden. I travelled all the time because I was still a member of the Nigerian national team.
I ended my career in 2009, got married to my husband and moved to Helsinki. I wanted to make room for new players. I also believe there's life outside football. I now work in Helsinki and I have two children, a daughter and a son.
Watch the video to see what makes Ayisat's life fun even on a bad day:
How did you start your career as a professional football player?
– I was born and grew up in Nigeria, in the city of Lagos. My family includes my mother and five siblings. I'm a middle child. My father passed away when I was 9 years old.
I come from a Muslim community, and in my youth it was forbidden for girls to have sports as a hobby. I've always been a bit boyish. I used to run away to play football on the street with boys. My relatives weren't happy about this, but I was stubborn and returned to play over and over again, although I knew I would be punished at home.
Messi, Ronaldinho and Bryant were genuinely nice people.
I was talented, I never had any difficulties with playing. When I was a little older, I played in my high school football team and my talents were spotted. I started my career in Nigerian football clubs, such as Delta Queens and The Capital.
Then I got selected in the national team, and everything changed. My matches were broadcast on TV, and people started to recognise me. Nowadays, I'm a famous person in Nigeria.
I broke stereotypes, and since then, there have been huge improvements to the situation of girls in different parts of Nigeria. Girls are now allowed to play sports as a hobby, and I'm happy about it – I don't want anyone to go through what I went through. In Nigeria, I've been involved in setting up a foundation named SheFootball Initiative. It supports 400-500 girls with their sports hobby every year.
This sight sets Ayisat Yusuf-Aromire's living room apart from a regular living room.
What is the best moment of your professional career?
– Definitely the Beijing Olympics in 2008. The mood was completely different compared to any other event. I met a lot of famous athletes, such as Lionel Messi, Ronaldinho and Kobe Bryant, all of which I'd only seen on TV. All of them were genuinely nice people.
I even have a tattoo of the Olympics. The Olympic Games are such a special memory.
Yusuf-Aromire has tattooed the Olympic circles on her arm as a reminder of the Beijing Olympics in 2008.
What are your strengths and weaknesses as a player?
– I'm fast and I always run around like a rabbit. I can play every position, but the coach of the national team put me as a defender. That's why my official position has been marked as defender. People trust me in defence because I'm aggressive and I never give up. I'm also good at playing tricks with the ball.
When I play, I can use both of my feet, but I'm right footed and my left foot could be even better. Most players are right footed, and the few left-footed players are very dangerous. They're always exceptionally good players. Messi for example is left footed.
Tell us more about your work.
– I have two jobs. My main job is sports instructor, I work in the civic organisation Monaliiku ry, where I started nine years ago. I teach about the importance of physical and mental well-being to immigrant women.  I instruct different kinds of sports and lead group conversations where I, for instance, talk about the importance of diet.
Some immigrant women don't have experience of sports, because they come from places where women aren't supposed to have hobbies, they're supposed to stay at home. Sports is my passion and it increases my well-being, so I want to spread the word about it. At the same time, I'm helping the women adjust to Finnish society.
My second job involves coaching football in two different teams: IF Gnistan, a girls' team in Oulunkylä, and FC Pohu, a womens' hobby team in Pohjois-Haaga.
What kind of a coach are you?
– I've played myself, so I know that no player wants to make mistakes. However, even the world's best player has their bad days. In my opinion, a coach shouldn't reprimand for errors. They should root for a player when the player succeeds at something. My positive coaching philosophy involves giving encouragement in successes and support in failures.
What do you miss most from Nigeria?
– Nearly everything! The spicy food, which is also fresher, because you can pick it up straight from a farm. The warm weather and wearing tight summer clothes. Of course I miss my friends and people in general. I visit the country every year, and I have a house in Lagos. My children love Nigeria too. I always take them with me there in the summer.
What was it like to move to Finland?
– I didn't know anything about Finland when I arrived here. It was winter, and the cold weather was a shock to me as a Nigerian. At the airport I was met by Pekka Jalovaara, a doctor for FC Oulu. Pekka took me under his wings like a daughter. Many immigrants have difficulties with adjusting to Finland, but he made it easier and helped with practical issues.
At first, all the Finnish people in my team looked the same, so I couldn't tell them apart.
There were problems too. I didn't understand the language, and I thought all the Finnish people in my team looked the same, so I couldn't tell them apart. At first, I felt like an outsider. However, I was a good player, and when the others in my team noticed it, they took me in the game and started to pass the ball to me actively. The first Finnish word I learned was pallo (ball), I heard it all the time during practice.
Finland is one of the world's best countries in terms of the environment, safety, and education. This is a really good place to live, especially with children.
Activist and athlete in the same package: Yusuf-Aromire is improving the status of women with the power of football.
Who do you admire?
– Michelle Obama. She's an influential woman with her own voice and a possibility to make a change. She's used her visibility to do good. I would like to meet her one day.
How did you hear about JHL and why did you join?
– In Finland I often heard people talk about trade unions, but I didn't really know what they were all about. During coronavirus, a few of my friends lost their jobs and told me they'd be fine, their union supports them. I got interested in joining, because one day something might happen that affects my work.
I researched trade unions online, and I ran into JHL's website. The union logo caught my eye – the strong colours and circles reminded me of football.
The logo made me click, I ended up reading the website and decided to join right away. Last month, I attended JHL's training where they talked about the union and employee rights. I told the story about the logo there, too. The course leader promised to pass on my regards to the logo designer.
During her career as a professional, Yusuf-Aromire was on the move all the time because she played in several teams at once.