Institutional cleaner Ruth Lutete's boss encouraged her to join the trade union. Lutete hails from Congo and has been living in Finland for ten years. Her new home country only has one unpleasant feature.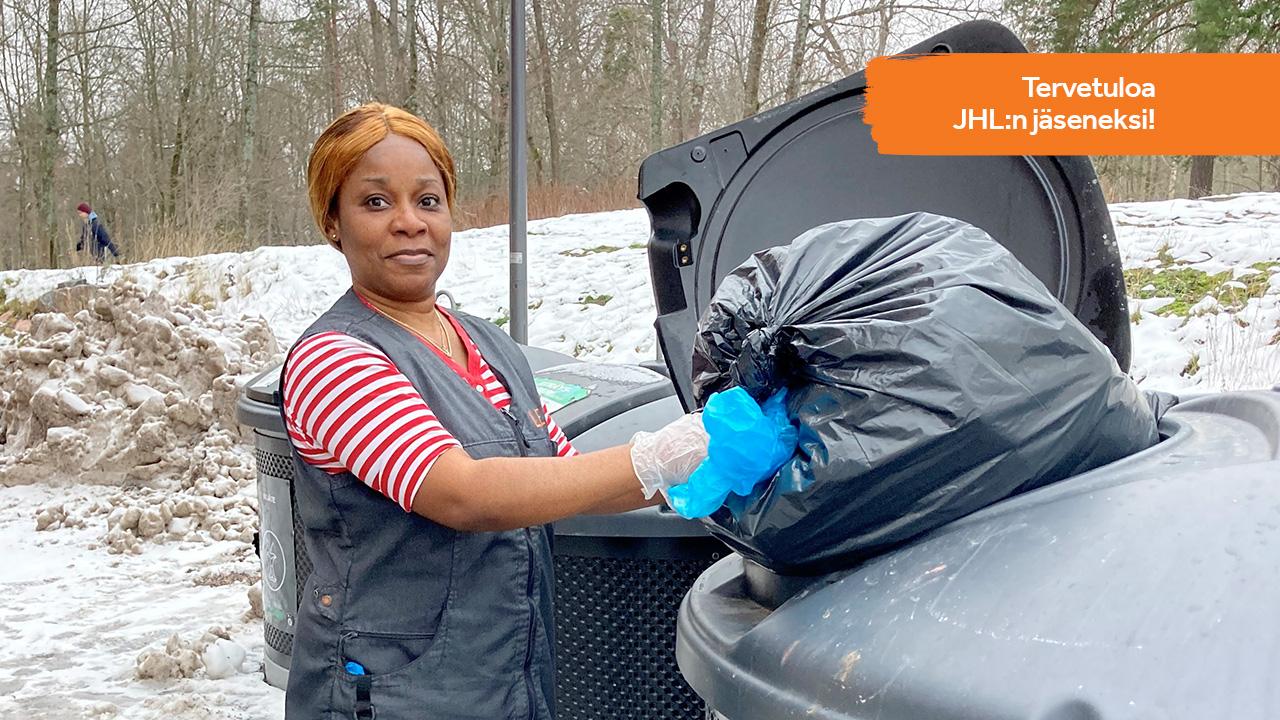 Original article written in Finnish by Päivi Tolonen Photos: Päivi Tolonen, Esko Jämsä Reading time: 3 mins
Motiivi magazine's series of articles about new members continues. This time we meet Ruth Lutete, 36, who lives in Helsinki. Also read about Ayisat Yusuf-Aromire, star of the Olympics and African champion. The rest of the articles in the series are in Finnish.
This is Ruth Lutete's second year working as aninstitutional cleaner in Vocational College Live's Leppävaara branch. Lutete moved to Finland from the Democratic Republic of Congo in 2013 with her son who was four years old at the time.
The first years were tough, but Lutete finally learned some Finnish and got an occupation. Life turned around after that.
The institutional cleaner team in Live is exceptionally unionised: Nearly all team members belong to Trade Union JHL. Last autumn, Ruth Lutete joined the union too – at the urging of her supervisor.
Read more: JHL's member recruitment weeks: Multicultural work community achieved a positive spiral – It's easier to join the trade union when co-workers are already members
Ruth Lutete starts her working day in Vocational College Live at 5.30 in the morning.
Welcome as a member of JHL! How did you become a member?
– My boss told me about the trade union and said I should join it.
What do you expect from the union?
– I don't yet know JHL very well, so I'd like to learn more about what it does. I would want the union's website to have information in French as well. Trade union matters are complicated, and it's not always easy for a foreigner to understand them in Finnish.
What do you enjoy most in your job as an institutional cleaner?
– The work is independent and involves certain routines, so it's not complicated. I also like my co-workers. Our team consists of seven institutional cleaners and our supervisor Minna.
My responsibility is the fourth storey of Live's Leppävaara branch. There's plenty of cleaning to do – in my area there are 12 classrooms including a teaching kitchen, seven toilets, and two corridors. I like my job although cleaning up toilets is not all that enjoyable. But I think that's completely normal.
Compliment your boss!
– Minna is like a good mother, which I often tell her. She has a good heart. If I have problems, I can talk about them, and she comforts me. If I make mistakes with the Finnish language, she corrects me. Minna also smiles a lot. I really like her.
I also like Live's teachers. We get along well. Once a teacher thanked me for always keeping the toilets and other places clean.
The fourth-storey classrooms are Lutete's territory in Live.
When you come home from work, what's the first thing you do?
– First, I eat. Then I take a nap because I get up as early as 4 in the morning. I start work at 5.30 am and finish at 1.30 pm. After I get up from my nap, I do some organising at home.
In the evenings, I watch TV or YouTube videos and follow news from Congo. I also like watching French-speaking movies. I go to bed at 11 pm. I've tried to learn to go to bed already at 10 pm, but it's not easy.
How did you end up working in Live?
– After I'd learned enough Finnish, I was able to start my institutional cleaner studies in Vocational College Live's Metsälä branch. I graduated in 2019 as the best student of our class, which made me really happy.
During my studies, I completed two internships. First, I worked for five months in Kallio Office Building and then for three months in Live's Tenholantie branch.
At first, even finding a toothbrush in a store was a challenge.
My supervisor really appreciated my work in Live. That's why I got a pleasant phone call in early summer 2021. My Supervisor from Tenholantie called me and asked if I'd like to get a job as an institutional cleaner in Leppävaara. Of course I said yes and started work on 15 June 2021. I was happy because I'd already been looking for work for months.
How did it feel like to move from Congo to the far-away country of Finland?
– The first weeks were difficult because everything was different compared to Congo. Even finding a toothbrush in a store was a challenge. I don't speak English, so I had an interpreter with me whenever I was taking care of official matters.
For the first two years, I lived in a reception centre in Lappeenranta with my child. It wasn't possible for me to work at the time because I didn't speak Finnish and I had to look after my son. In 2016, I moved to Helsinki and started studying Finnish. I studied for two years in Eira High School for Adults and achieved level B1 in the Finnish language.
How has it been like to live in Finland?
– I greatly enjoy living here because everything's well organised and works smoothly. There's law and order here and it's peaceful.
I only don't like the cold weather. Summers are nice because it's warm. I'm not even bothered by bright nights; I can even sleep with curtains open.
Have you made friends in Finland?
– I live in the Munkkivuori district which doesn't seem to have all that many immigrants. Luckily, my son and I have made friends with a nice Finnish family living next door. I hope to make more Finnish friends.
Ruth Lutete got a steady job in Live after graduating as an institutional cleaner.
What do you think about the Finnish language?
– It's difficult! The French language is a lot simpler. There is one man (homme) and several men (hommes). Other cases are taken care of with prepositions, and there aren't many of them. In the Finnish language however, there are words like miestä, miehen, miehellä, miehessä… And nearly all of them are inflected irregularly. Learning to remember them is really difficult.
Do you miss Congo?
– Of course. It's my home country. However, there aren't many good news coming from Congo. The war with Rwanda is still under way. My mother lives in the capital Kinshasa, and I also have cousins there. Flight tickets are expensive, so I haven't yet visited Congo since I left.
My supervisor Minna is like a good mother.
What are your hobbies?
– I like music and I sing Congolese songs nearly every day. I listen to Finnish music as well; I especially like Anna Puu.
I also cook. My favourite Congolese dish is fumbua. The dish is made from the fumbua plant which is a wild spinach of sorts. Peanuts, tomato, onion and garlic are also added in the dish.
I look for Finnish recipes on the ruoka.fi website. I like tuna pasta for example.
What annoys you?
– When my son begs me for a long time to buy him something. Buy a phone, buy this, buy that. Buy buy buy!
What makes you happy?
– Life. When you're alive, you always have hope. I have a positive attitude to life.
If you weren't an institutional cleaner, what would you do?
– I'd like to study and become an interior designer, but it hasn't been easy thus far because I don't know Finnish well enough yet. Another occupation of my dreams is children's nurse within early childhood education and care. For that however, I would have to study in the evening to become a practical nurse, and I haven't yet found a place where I can do that.
An optimistic attitude to life carries Ruth Lutete from one day to another.
What will you be doing 10 years from now?
– I'll be living in Finland and working as an interior designer or children's nurse.
What's the most important thing about life?
– Your own personality. You need to know yourself well. If you don't know yourself, it's difficult to live with other people. When you know yourself, you're strong and you can share your strength with others, too. Another important thing is love.